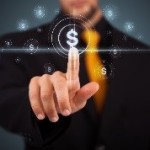 Last week I wrote about my foray into online dating.
But my "hot date" ended up being lukewarm. That's okay - the great thing about online dating is that it is easy to meet other people.
In fact, this reminded me of my days in the trading pits: If a promising opportunity didn't work out as hoped, you took the loss quickly and moved on - knowing there were lots of other opportunities out there.
In a world where folks are busier than ever, that ability to find new opportunities - to easily meet new people - is the big attraction to online dating. That's why it has become a $2 billion business.