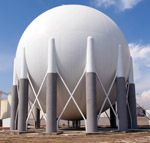 Cheniere (LNG) stock has climbed 126% over the past year - and we believe there's a lot more to come.
Houston-based Cheniere Energy Inc. (NYSE MKT: LNG) is the biggest name in liquefied natural gas (LNG) exporting. It was the first company that the U.S. Energy Department granted approval for exporting to countries that do not have a Free Trade Agreement with the United States.
Cheniere's head start on competitors gives it what Forbescalled a near-monopoly for the next few years.