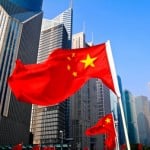 I love being right...Does that make me a bad person?
I have been warning for months that the market is overvalued, that the global economy is sick, and that stocks are headed for a fall. While CNBC and the rest of the clueless bulls break out the arm-bands, readers at Money Morning - who have been paying attention - should not have been surprised by what happened last week.
The collapse in commodity prices that began a year ago was a raging canary in the coal mine, screaming that something was wrong in the global economy. And that was the faltering of Chinese growth, which all along had been built on a fragile foundation of debt.