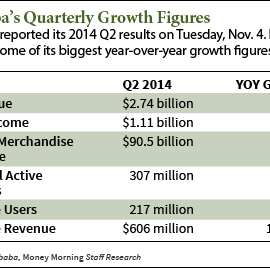 Alibaba stock was up as much as 3.5% to $119.07 Wednesday, one day after the biggest shopping day in history.
Nov. 11 was "Singles' Day" in China, and more than $9.3 billion was spent over Alibaba Group Holding Ltd.'s (NYSE: BABA) network of sites. In just 24 hours, Alibaba processed more than 278 million orders.
That's more than was spent in the entire U.S. last Thanksgiving, Black Friday, and Cyber Monday combined.