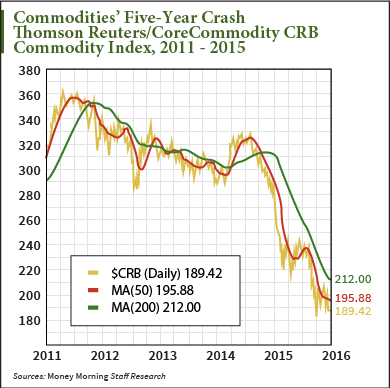 Commodities prices have essentially crashed.
The Thomson Reuters/CoreCommodities CRB Commodity Index peaked near 365 in 2011.
Today it sits at just 189, a brutal loss of more than 48%. Gold, silver, oil, natural gas, uranium, coal, iron ore, and copper are all at or near multiyear lows.
It's been devastating for companies producing them and countries dependent on exporting them.
But by definition, commodity production is a cyclical business, and what goes down simply must come up.
In fact, there's so much upside potential at the other end of this sector-wide slump that my eyes have been glued to some important indicators - including some that few others are looking at.
When a bottom and recovery develops, it will appear here first. That will give us the earliest opportunity to capture gains on the way up.