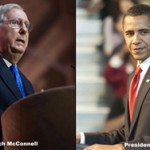 The 114th Congress is now in session. U.S. President Barack Obama for the first time faces a Congress that has Republicans running both chambers.
What President Obama can expect from the GOP Congress in 2015 will matter to investors. Many issues on the agenda, such as corporate taxes, trade, and a higher minimum wage will impact stocks.
Given the gridlock of recent years, the easy assumption is that nothing will get done. But the two sides have more incentive to work together in 2015.