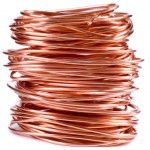 A huge opportunity for copper investing in 2013 could be on the market soon - that is, unless half of the "red metal" industry gets its way.
A group of copper consumers is accusing the U.S. Securities and Exchange Commission (SEC) of being "arbitrary and capricious" when last month it approved the JPMorgan XF Physical Copper Trust, the first-ever U.S. copper exchange-traded fund (ETF) backed by the metal itself. The fund had a two-year wait for the green light.
The trust initially plans to hold 61,800 metric tons of copper in warehouses worldwide. That is equivalent to about 27% of the copper held in London Metal Exchange's (LME) global network of warehouses.
This strategy of holding physical metal is similar to many of the precious metals ETFs on the market, such as the SPDR Gold Trust (NYSE: GLD).
But now many in the copper industry, including fabricators who account for about half of U.S. copper demand, claim the SEC had insufficient evidence to conclude the product would not affect the metal's supply, according to the Financial Times.
The group says the fund would "obviously drive up the price of copper available for immediate delivery and create shortages of such supply," and would remove as much as 30% of the copper available for immediate delivery.
Sen. Carl Levin, D-MI, also disapproved, saying it would be a "blow to American businesses and consumers" and "allow speculators to create a squeeze on the market."
But the SEC disagrees.