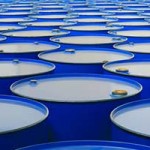 A three-day rally in crude prices last week is giving investors hope that the collapse in oil prices is over, and the market is reacting with strong moves to the upside in "Big Oil" stocks.
However, it may be too soon to draw either a correlation or conclusion; oil inventories and futures markets suggest that oil prices could easily head back down before stabilizing later this year (we saw a glimpse of this early Wednesday).
The share price drops have significantly affected the "Oil Patch" sector, with the Energy Select SPDR ETF down 26% since peaking at $100.93 on June 20, 2014.
Is an oil price rally for real, or just a head-fake we need to ignore for now?