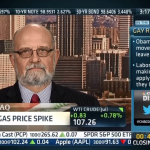 Money Morning Global Energy Strategist Dr. Kent Moors appeared on CNBC's "Closing Bell" on Fridayto discuss what geopolitical conflict in Iraq will do to crude oil prices and the effect on gas this week.
On Friday, Islamic State of Iraq and Greater Syria (ISIS) insurgents attacked Baji, an area about 200 miles north of Baghdad. Baji houses the largest refinery in Iraq, which accounts for almost a third of the country's refining capacity. Although the Iraqi government said it held Baji against the attack, ISIS has control of areas just outside the refinery.
Watch the video to see where Moors thinks "exceptionally unstable" crude oil prices will go from here, and whether gas prices will hit $4 per gallon this week...