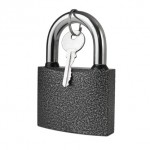 Not even the ultra-secretive U.S. Federal Reserve has been spared from aggressive cyberattacks - making cybersecurity an even bigger concern in 2013 than before.
The central bank acknowledged this week it was the victim of a "hack attack" after the group Anonymous claimed responsibility in a Tweet on Super Bowl Sunday.
"The Federal Reserve system is aware that information was obtained by exploiting a temporary vulnerability in a website vendor product," the Fed said in a statement. "Exposure was fixed shortly after discovery and is no longer an issue. The incident did not affect critical operations of the Federal Reserve system."
Anonymous claimed it had compromised 4,000 bankers' credentials on a private computer system the Fed uses to communicate with bankers in emergencies such as natural disasters and potential acts of terrorism.
Hackers also are believed to have accessed private information including data on banks the government agency oversees as well as Fed forecasts for future economic policy actions.
The Fed said all those affected by the breach had been contacted.
The cyberattack underscores the importance of cybersecurity at a time when high-profile attacks have grown more common.
Just a few days after the Super Bowl Sunday attack, Internet security company McAfee reported a hacking operation spanning at least five years had targeted 72 governments, corporations and organizations, 49 of them in the United States.
What McAfee dubbed "Operation Shady Rat" hit government agencies at the federal, state and county level and compromised classified government information.
Reuters reported organizations hacked in the attack included the United Nations, the Association of Southeast Asian Nations and the International Olympic Committee.
Other targeted organizations included those in defense, electronics, computer security, information technology, news media, and communications technology sectors.