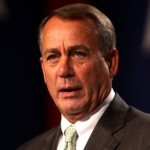 Debt ceiling news 2014: The House of Representative passed a one-year extension to the United States' debt limit on Tuesday evening.
Sen. Majority Leader Harry M. Reid (D-NV) has already said he would pass the bill, although Sen. Ted Cruz (R-TX) may demand a 60-vote threshold on the deal. With U.S. President Barack Obama's signature, the nation would no longer face the threat of defaulting on its debt of $17.2 trillion within the next couple of months.
The deal passed by a narrow vote, 221 to 201, with just 28 Republicans supporting a "clean" extension of the country's borrowing power.