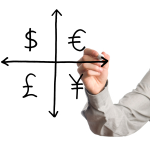 The Japanese yen has already fallen by more than 12% against the U.S. dollar since Nov. 1, 2012 - and it could still have further to fall.
That's mainly because the Bank of Japan appears likely to go along with the wishes of the Liberal Democratic Party, led by newly elected Prime Minister Shinzo Abe, and step up its attempts to eliminate deflation by using "unlimited easing" and setting a 2% inflation target.
Most of the Japanese yen's weakness we have seen so far stems from aggressive jawboning by Prime Minister Abe and other LDP leaders. And outgoing Bank of Japan Governor Masaaki Shirakawa has appeared likely to go along with Prime Minister Abe's demands for closer cooperation between the government and the central bank.
The Bank of Japan's Monetary Policy Committee (the Japanese equivalent of the Fed's Federal Open Market Committee) is in the middle of a regularly scheduled two-day meeting. It is widely anticipated that the BOJ will agree to additional easing measures - most likely purchases of Japanese government bonds (JGBs) - and will formally adopt the government's 2% inflation target.