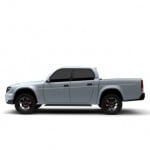 For three decades now, I've trusted Fords.
I got my first used Ford Escort as a college kid, drove it for years, then passed it down to my younger brother.
I bought a brand-new red Mustang in the late 1980s - and still regret ever having sold it.
I've since had an Escort wagon, which died only because the guy who changed the oil didn't put the cap back on the oil pan when he was done.
And I just bought my latest Escort - a 2001 model with more than 95,000 miles on it. I have every reason to believe that with proper TLC, it'll go to at least 200,000.
How I went from a new Mustang in the late '80's to a 12-year-old Escort - a car Ford doesn't even make anymore - that's another story.
But you get the picture. I believe in the Ford brand.
And I'm not alone.
Indeed, Ford leads the auto industry in brand loyalty, with a rate of 65.1%, the automotive analyst Polk reports.
Wishing I had Bought Ford Stock
If only I had bought Ford Motor Co. (NSFE: F) stock back when I bought my first Escort.