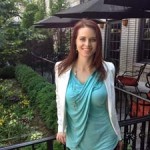 In Part I of the Money Morning exclusive interview with Chamber of Digital Commerce President Perianne Boring, she talked about how she got to Washington and the work of the CDC.
The 27-year-old has certainly made a name for herself in the world of Bitcoin.
She founded the CDC in July of last year. The trade association's purpose is to advocate for Bitcoin not just on Capitol Hill, but amongst the regulatory maze that is Washington.