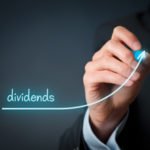 Investing in dividend stocks can be a great way to earn regular, passive income.
Some of the best dividend stocks can even pay a yield significantly higher than the S&P 500 average.
For example, Chevron Corporation (NYSE: CVX), one of the S&P 500 "Dividend Aristocrats," has a 4.71% yield, which is more than double the S&P average of 2%.
Investing in high dividend stocks like this can be some of the safest, most consistent ways to earn cash from your holdings.
And there are many high-yielding dividend stocks out there.
So the biggest question for many new dividend investors is simply, "When do I get paid?"