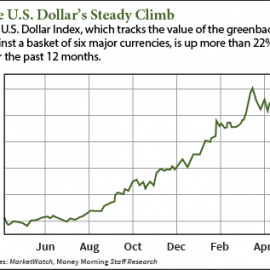 Not all U.S. companies have been hurt by the dollar's year-long rally. Companies that share one key trait - let's call them strong-dollar stocks - are thriving.
Many multinational companies have seen the strong U.S. dollar eat into their earnings over the past few quarters. But we'll hear a different story from the strong-dollar stocks. This group of companies has little or no exposure to foreign markets.
And the factors feeding the strong dollar won't change any time soon.