Donald Trump independent
Article Index
But that's not all. Here's a look at more the GOP front-runner's divisive declarations made during and after the debate...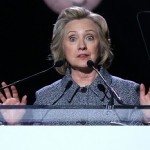 What happens if Trump runs as an independent?
Nothing good, according to a poll released earlier today. Unless, of course, you're a Hillary Clinton supporter.
There are several theoretical scenarios that show just how damaging a third-party Trump bid could be. Here are the percentages involved - plus what it will take from the GOP to keep the bombastic billionaire from breaking his "no third-party run" promise...