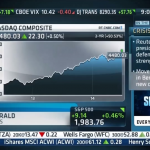 On Thursday afternoon,
Money Morning
Chief Investment Strategist Keith Fitz-Gerald appeared on
CNBC's
"Closing Bell"for a roundtable discussion of the Dow Jones Industrial Average, which had just shattered 17,000 points.
But the sheer duration of this bull market - which has now lasted more than 1,000 days -suggests a correction could be in store for the Dow and other U.S. markets. Further jobs data was also a cause of concern. June full time jobs dipped by more than 500,000, while part time jobs rose by 800,000 - the most since 1993.
Watch the following video for Fitz-Gerald's investing insight on the best market moves to make now to prepare.