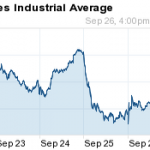 Dow Jones Industrial Average officials just made membership requirements for its elite index even more stringent, prompted by a surge in inversion deals made to avoid the high U.S. corporate tax rate.
The committee overseeing the storied blue-chip benchmark just updated the definition for index inclusion. The classification now states that companies that conduct business in the United States, but are incorporated abroad, are not eligible for admission in the 30-stock index.
The Dow tweaked the language used in its process of accepting components into the coveted index to officially read that member companies must be incorporated and headquartered in the United States. Additionally, the United States must be a company's largest revenue-generating country.
That means the new eligibility requirements clearly exclude companies that have moved overseas via inversion deals.