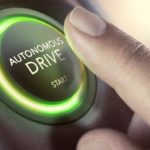 Self-driving car stocks are in a sweet spot right now, poised to benefit from a surge of investment that will fuel the growth of a $2.2 trillion market.
That's 33 times the size of today's driverless car sector.
Cumulative investment by companies into self-driving car technologies took off last year, rising from $11 billion to $80 billion in less than a year.