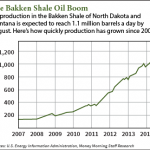 The Bakken Shale formation of North Dakota and Montana was back in focus for investors earlier this week when Whiting Petroleum Corp. (NYSE: WLL) announced plans to purchase Kodiak Oil & Gas Corp. (NYSE: KOG).
Through the deal, WLL will pay $3.8 billion in stock and $2.2 billion in debt. The combined company produced over 107,000 barrels of oil equivalent in the first quarter of 2014.
But WLL isn't the only company profiting from the Bakken Shale.