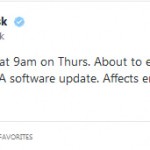 Tesla CEO Elon Musk hinted via tweet Sunday at a breakthrough that would eliminate electric car drivers' greatest fear.
The Model S is already fantastic in terms of range compared to its electric competitors. Each of the four variations delivers ranges between 208 and 270 miles per charge, compared to competitors' 100 miles per charge.
Still, the news was well-received by investors - Tesla stock shot up 3.72% Monday.