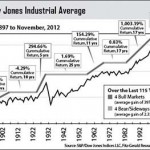 Investors pulled almost $40 billion from stock markets last quarter alone, according to Morningstar. That's nearly 50% of everything taken out for all of 2015.
But here's the thing... no matter how grim the global situation is or even becomes, indiscriminately selling is exactly what you don't want to do.
It's one of the worst possible decisions any investor can make and, ultimately, one that will cost investors billions in lost profits.