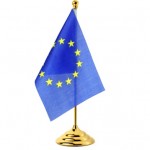 European Union leaders have seemingly changed their tune lately on how best to deal with the long-running Eurozone debt crisis.
Increasingly, EU politicians have been sounding the theme that economic growth - not Eurozone austerity - is the answer, and that deadlines set for reductions in public spending needed to be loosened.
It started about a month ago, with none other than European Commission President Jose Manuel Barroso.
"While I think this policy [of austerity] is fundamentally right, I think it has reached its limits," Barroso said. "A policy to be successful not only has to be properly designed, it has to have the minimum of political and social support."
Shortly afterward, French Prime Minister Pierre Moscovici chimed in, "We're witnessing the end of the dogma of austerity."
Meanwhile, the European Commission seemed to confirm the policy shift when it recently extended the deadlines for most of the troubled EU nations to fix their budget deficits.
News headlines throughout Europe trumpeted the "end of austerity."
But what the EU leaders have really done is buy themselves more time by stretching out the Eurozone austerity policies - which are mostly still in place - over a longer period of time.