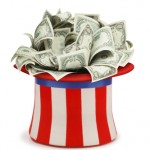 So many federal agencies are duplicating one another's efforts in so many different areas that the billions lost to such wasteful government spending is impossible to calculate.
A recent report from the nonpartisan Government Accountability Office uncovered 162 areas of duplicate spending, which at minimum wastes tens of billions of dollars every year.
Sen. Tom Coburn, R-OK, a well-known hawk on wasteful government spending, estimates that the duplication cited in the GAO report squanders between $100 billion and $200 billion a year.