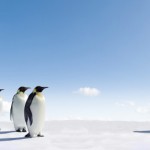 News from Wall Street this week reminded me of the penguins that inhabit the icy, turbulent waters of the Southern Ocean.
These penguins are preyed upon mercilessly by tremendous, ravenous orcas - a terrible beast to feel gnawing on your leg if you derive your daily bread from the frozen, watery wastes.
But the penguins have devised a clever, if brutal, warning system.
A flock of penguins will gather apprehensively at waters' edge... and one luckless penguin will be pushed into the sea. If the penguin is ripped to shreds by killer whales, the rest will hang back a while.
Otherwise, the rest of the flock piles into the briny deep.
Goldman Sachs Group (NYSE: GS) bond trader Fabrice Tourre is one of those luckless, doomed penguins.
The predator in this case is unlikely: a normally toothless flounder otherwise known as the Securities & Exchange Commission.
Fabrice Tourre, a bond trader of the middling ranks, was earlier this week found liable for six of seven fraud charges relating to Goldman Sachs' trading of toxic mortgage assets.
The civil trial - a rare prosecution - provided a rare victory to the SEC, who, after a loss and a draw, are desperate for a win. At issue was whether or not a full $1 billion worth of collateralized debt obligations (CDOs) were fraudulently marketed.
They were.