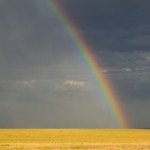 Three weeks ago we mentioned that Morgan Stanley announced that it will close the agriculture segment of its commodities business.
The move was just another sign of hedge funds and banks electing to shift away from soft commodities, and place greater emphasis on the oil and gas markets.
Over the last two years, a number of banks have struggled in the agricultural sector. As they continue to show impatience for the long-term, many on Wall Street have picked up the ball and gone home.
Still, from our research and conversations with investors like Jim Rogers, the agricultural sector provides one of the best investment opportunities over the long term.
With demand outpacing supply and global food stocks hovering near record lows, the fundamentals are clear. It's is why Rogers told Money Morning this year "the price of agriculture has to go up a lot, or we're not going to have any food at any price."
But there's another important investor out there who is long South American agriculture. And he's using an entirely different strategy than the big banks in New York.
The investor is George Soros, Jim Rogers' former co-founder of the Quantum Fund.
Even though many Money Morning readers might not agree with Soros' politics, there's one thing you can't deny: Like Rogers, he too is a legendary investor.
And sometimes you have to put politics aside and find the right investment. And sure enough, he's long one stock that is ripe given the need for more food development in South America.
More than One Way to Invest
Wall Street banks are pulling out of the agricultural sector for two reasons: One, the short-term focus on profitability clouds their ability to see the long-term value of agricultural holdings. Second, soft commodities are a very difficult to master.
There are many different ways to invest in agriculture, but most are subject to short-term volatility given the global supply and demand picture, and the factors impacting prices such as planting cycles, weather variations, energy and shipping costs, and political uncertainty.
While animal technology continues to be our favorite way to invest in the sector, the Soros strategy has centered on a valuable investment vehicle that remains popular with hedge funds around the world: farmland.
Farmland continues to rise in price as investors attempt to cash in on the growing need for food in a world that will have nine billion mouths to feed in 2050.
And it's a solid hedge against rising prices. Over the past 70 years, farmland real estate appreciation has easily outpaced the annual inflation rate.
But farmland isn't just spiking in price here in the United States. It's also becoming a very hot commodity down in South America and portions of Africa.
And one stock provides an opportunity to get in on the development and ownership of farmland south of the equator.
Land Opportunities Abound in South America