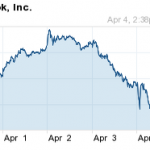 Why the sudden slip in Facebook (Nasdaq: FB) stock?
Shares of the social networking leader slipped some 5% intraday Friday to $56.50. That followed a 5.15% drop on Thursday. The recent slump has nearly wiped out all of 2014's gains and leaves shares close to FB's Jan 2 opening price of $54.83.
While FB shares are still up a modest 5% year to date, they sit roughly 20% off the highs hit less than a month ago.