federal budget
Article Index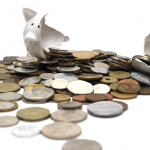 You won't believe the underhanded way Washington plans to take your money this time…
Never mind the $15 trillion national debt; the
government
blew $592,000 on a study last year to figure out why chimpanzees throw poop.
That's just one example of government waste described in a recent book by Sen. Tom Coburn, R-OK. His "Wastebook 2011" features 100 examples of needless or ill-advised
government spending
.
It adds up to $6.9 billion that America can't afford. And while such waste is just a fraction of the
federal government's $3.8 trillion budget
, a country that needs to borrow 36 cents of every dollar it spends should not be throwing money away on non-essential research.
Like why chimps throw poop.
Here are 17 other things the government wasted tax dollars on last year:
To continue reading, please click here...
U.S. Treasury Secretary Timothy Geithner is once again worried that we're going to hit our debt ceiling (this time by May 16), and the resultant debate has once again brought our government to the brink of a "shutdown."

I don't know why: The entire debt ceiling concept - as well as the investor fear, political-posturing, self-aggrandizing behavior and government-shutdown debates this budget limit repeatedly spawns - is a joke, albeit it a very bad one.

Unfortunately, the speed at which headlines are crossing my desk suggests that the entire affair will turn into yet another Capitol Hill debacle - this one with additional consequences for an already battered Main Street.

But I've got four recommendations that will help you sidestep the government shutdown/debt ceiling fallout, and perhaps even bolster your retirement holdings along the way.


For those four strategies, please read on...