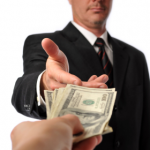 Ordinary Americans have been thrust into a nightmarish Orwellian daze. 
I see tinfoil hat-wearing conspiracy theorists waiving their hands about in joyful affirmation, and it feels plain unnatural. 
Yet, people are starting to ask strange questions which only the tinfoil hat-wearers were willing to entertain before. 
And it turns out the answers to those questions are frightening. 
Citizens are being spied on, bullied, and punished because their opinions differ from reigning political agendas. 
In fact, a litany of cases  recently uncovered shows that the IRS has targeted the free speech of vocal Obama opponents, including conservative non-profits, tea party activists and other individuals and businesses.
If you speak out against the president's agenda, there's a good chance the IRS will audit you. Or if you organize a grass-roots tea party group...the IRS will refuse to grant it tax-exempt status. But if you're left-wing, not only will the IRS rubber stamp your tax status, it'll leak to you the donor list of conservative groups for you to attack.
Keep quiet or else...