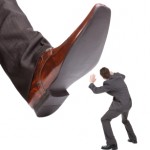 Fed up with corporate tax avoidance that keeps their fingers off of billions of dollars in potential revenue to feed their spendthrift ways each year, governments in the world's richest economies soon hope to have a plan to do something about it.
The Organization for Economic Cooperation and Development (OECD) will present a preliminary version of such a plan at the meeting of G20 finance minister in Moscow on July 17.
Getting the world's major governments to cooperate on anything is never easy, but in corporate tax avoidance they have an issue that politicians of almost any culture or political stripe can agree on.
"This is a very challenging piece of work," said OECD secretary general Angel Gurria at the organization's annual conference in May. "We have created a regime where it is legal to pay no or little taxes. But I'm very confident we can find a formula that provides a level playing field."
In government speak, this level playing field means hiking corporate taxes.
Most of the world's developed economies also happen to have severe debt problems and are looking for revenue wherever they can find it. Getting more money out of multinational corporations would be a big help.
And several high profile examples of corporate tax avoidance over the past year have also put the issue on the public's radar screen, adding to the political pressure to "do something."