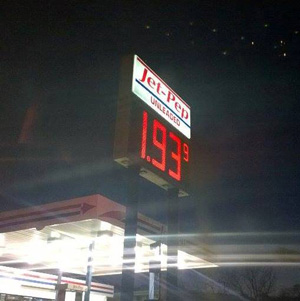 Gas prices across the nation are on track to sink below $2 a gallon by the end of January for the first time since March 25, 2009.
Twenty-five states and more than 50% of U.S. gas stations averaged sub-$2 a gallon gas prices on Jan. 20 according to AAA. The average U.S. gas price could fall to $1.95 - or even lower - "over the next few weeks."
And so for the first time in almost six years, many American motorists will joyfully watch local gas station prices tick under $2. They'll also save an estimated $750 on average at the pump in 2015 compared to last year, according to GasBuddy.