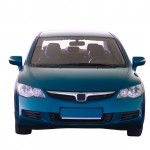 U.S. auto sales were up big in 2014 and are expected to stay strong in 2015:
Oil prices have collapsed and are expected to stay low, fueling demand for pickup trucks, SUVs and RVs...
The average age of the U.S. auto fleet is at a record high 11.4 years while the average age of a full-size pickup truck is an even older 12.5 years according to industry analysts Polk....
Auto financing is readily available...
Indeed, all the signs of a boom time for the American auto industry appear aligned, yet auto stocks are trading at depressed values compared to the rest of the stock market.