General Motors earnings
Article Index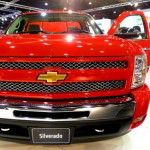 After a strong 2013, General Motors Company (NYSE: GM) stock has slumped so far this year and could use an earnings beat when it announces results Thursday morning before the markets open.
Analyst expectations for General Motors earnings per share (EPS) have slipped from $0.90 three months ago to $0.87 now, which is partly responsible for the 13.5% slide in GM stock so far this year.
To continue reading, please click here...