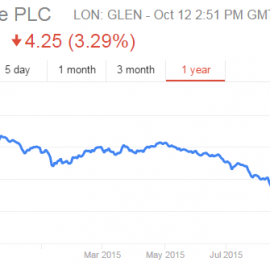 A lot of powerful voices have joined me in warning about the potential threat that Glencore Plc. (LON: GLEN) poses to global financial markets. Bank of America, for instance, has published a report on the true size of the fallout. As you'll see in a moment, it's staggering.
But since we talked about Glencore late last month, something insane has happened: The stock has gone up.
But not for any good reason. The company has not righted the ship. The surge is only due to short-sellers covering their positions.
The ugly truth is, the company is still a "shining" example of exactly what's wrong with these markets.
And I fear individual investors will get caught in the mess and wiped out on a stock like this or some of the others around it.
That's why I want to call out the misapprehensions and lies that are causing this "fauxcovery" and show you what's next.