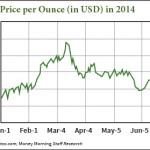 Gold prices have rallied 8% so far in 2014. It follows that investors in gold stocks - which are closely linked with gold itself - stand to profit. But the first half of 2014's gains aside, pressures shaping the yellow metal right now demand an allocation of gold stocks in a healthy investment portfolio.
In fact, Money Morning Chief Investment Strategist Keith Fitz-Gerald said in May that the case for owning gold has never been stronger.
"Many investors are asking themselves if now is the time to buy gold. I think that's the wrong question," Fitz-Gerald said. "What they should be asking themselves is if they can afford not to buy gold."