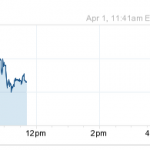 GoDaddy Inc. (NYSE: GDDY) stock debuted on the New York Stock Exchange today (Wednesday) at $26.15 a share and quickly climbed to $26.84 before 11:00 a.m. That's 34% higher than the $20 offer price.
It has been the most talked about IPO of 2015 so far, and now our readers asking us "Should I buy GoDaddy stock?"
Investor demand for GoDaddy stock has been high in its first day of trading. More than 151 million shares exchanged hands before noon.