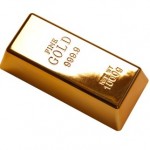 Gold prices seem to have stabilized today, trading once again above the $1,300 an ounce mark.
This follows a tumble yesterday of more than $40 an ounce to as low as $1,284 an ounce. That price was nearly a two-month low and put the precious metal down 23% in 2013.
At that level, gold was trading more than $50 below its 50-day moving average. To technical analysts, this confirmed the downtrend in the precious metal, bringing about a wave of selling by those who strictly follow the charts.
However, there were factors at play in gold's selloff other than technical selling.