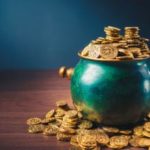 We all know gold is an excellent way to protect your wealth in times of market uncertainty and political turmoil.
But gold has also become one of our favorite profit opportunities in 2018 thanks to the Federal Reserve's rock-bottom interest rate policies over the past decade and political tensions in Asia.
In fact, Money Morning Resource Specialist Peter Krauth believes gold prices could rise 300% by 2020.