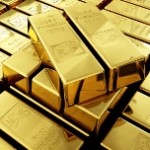 Gold prices this week have continued 2014's climb, with a boost today from U.S. Federal Reserve Chair Janet Yellen.
In morning trading Thursday, April gold rose $7, or 0.6%, at $1,335. Spot gold was flat at $1,330.20.
Early this week, the yellow metal hit a four-month high of $1,339.09 an ounce.