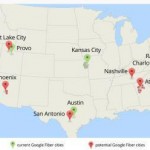 Google Fiber is about to expand to four more cities: Atlanta, Ga., Nashville, Tenn, and Charlotte and Raleigh-Durham, N.C. That's cause for celebration for those lucky denizens...
You see, the American Customer Satisfaction Index ranks Comcast Corp.- Google Fiber's main competitor - as the most-hated company in the U.S. in 2014. It was followed closely by Time Warner Cable Inc., another huge American ISP and Fiber rival.
In fact, customer satisfaction ranking in the ISP industry currently falls below the health insurance industry and airlines.