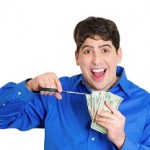 The government has found a brand-new, literally criminal use for your tax dollars.
Two years ago, it was the Economic Development Administration's $335,000 expenditure to build 38 "speed humps" in two towns in Maine, instead of fixing the state's crumbling infrastructure.
Last year, it was the U.S. Department of Defense's $40,000 tab from building an 11-foot, historical model of Fairchild Air Force Base.