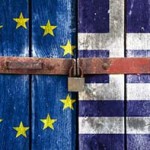 Stocks around the world were in the green Monday as Greece agreed to the latest bailout - its third - and the threat of an immediate default and "Grexit" from the Eurozone faded.
Or so goes the thinking.
But the problems at the root of the Greek debt crisis have in no way been "solved."