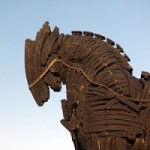 Good morning! Stock market futures for Friday, Feb. 20, forecasted a 26-point decrease from yesterday's close.
What to Watch Today: This morning, investors focus on Greece and the nation's ongoing pursuit of a deal to extend its debt obligations to European Union partners. Talks have already broken down twice and yesterday, Germany rejected a new plan from the Greek government, calling it a "Trojan horse."
Negotiations are expected to continue into the weekend. If the country cannot strike a deal, it may default and fall out of the Eurozone.