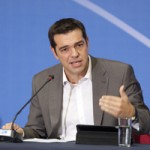 Good Morning! Stock market futures today (Monday) forecast an 85-point decline for the Dow from Friday's close.
What to Watch Today: With a light economic calendar today, investors will focus on the worrisome game of chicken transpiring in Europe.
With Greece facing a downgrade late on Friday afternoon, the ripples - which our Chief Investment Strategist Keith Fitz-Gerald explained last week - may not be done for the U.S. market just yet.