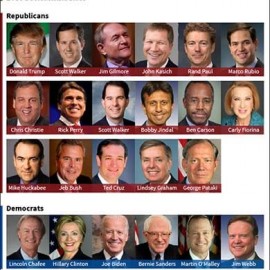 The race is on for 2016 presidential candidates. A wide field of 22 hopefuls -- 17 Republicans and five Democrats (Vice President Joe Biden is anticipated to make six) -- are busy vying for campaign donations.
Many traditional big-time celebrity political donors have not yet made a contribution in 2015. For instance, nothing from actor Morgan Freeman so far. Freeman was the third-largest celebrity contributor in the 2012 election cycle, with more than $1 million given to Hillary Clinton's Priorities USA Action super PAC. And actor husband-and-wife team Tom Hanks and Rita Wilson, the seventh-largest celebrity donors that cycle ($173,231 to Democrats) are also yet to contribute.
But a few others have already picked their candidate favorites in the 2016 presidential race.