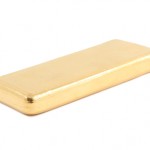 There are a lot of moving parts to the gold story so let's start with the biggest takeaway: Gold prices are facing only a temporary setback.
Longer-term, as the U.S. Federal Reserve and other central banks begin to wind down quantitative easing and, more importantly, begin to ease interest rates back up to more "normal" levels, inflation should begin to kick in and drive gold up to new highs, making the yellow metal a great long-term investment.
First, though, let's tease apart the various factors that currently are driving the price of gold lower.