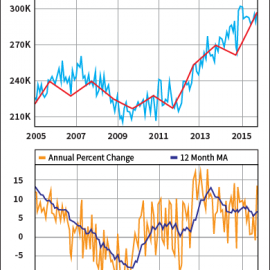 Don't believe any headlines that claim there's a housing "recovery" in the United States. The truth is, there is no single family housing industry to speak of today.
What for generations was a main driver of U.S. economic growth has been brought down by the past seven years of the Federal Reserve's zero-interest-rate policy (ZIRP). ZIRP has been a disaster for the U.S. economy, the middle class - just about every facet of American economic life has suffered from this fiscal disaster masquerading as coherent monetary policy.
Today I'm going to show you five charts that tell the story of exactly how much damage the Fed has done to U.S. housing. Most are derived from this week's release of new home sales data from the U.S. Census Bureau.