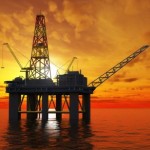 It was quickly becoming OPEC's worst nightmare. By the mid-1980s, oil prices had begun to collapse.
What's more, renegade cartel members were selling more oil than their monthly quotas allowed, which merely made a bad situation even worse.
Ordinarily, that was a point when the Saudis usually would step in and cut their own exports.
But by then, the pricing situation had become untenable. Instead, the Saudis embarked on a bold new strategy.
First, they opened up their own spigots and flooded the market with crude. This taught those recalcitrant OPEC members a big lesson about lost revenues.