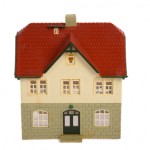 The housing market recovery is for real this time. Coming after the housing market crash, the recovery is welcome news to those in the industry - and bodes well for the economy as a whole.
"It almost seems too good to be true," Lawrence Yun, the chief economist at the National Association of Realtors, told Money Morning.
The latest confirmation of the market's rebound is the new survey of home builder confidence from Wells Fargo Bank and the National Association of Home Builders, which climbed to its highest level since 2006.
And housing starts were up 6.8% in May and 28.1% year to date, the U.S. Census Bureau said.